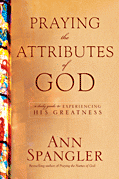 I had only heard briefly of Ann Spangler, prior to picking up one of her newest books to review, entitled Praying The Attributes of God. I'm not sure what exactly I expected out of the book, but since I feel that the emphasis of scripture is on God, who He is, what He's done for us and how we're to respond to Him, I was intrigued enough by the title and decided to read it through. I was not disappointed with my choice and pleasantly surprised by how much I enjoyed the selection.
The book is devotional in style, with each section covering one attribute of God, and the five chapters included in each section are divided into a Monday through Friday format, only 3-4 pages apiece, with scripture, small thoughts to pray about and normally an illustration at the end to drive home the point. It is the simplicity of the style with a focus on the scripture that I found to be easy to grasp and meditate upon. It would be a good read for the busy person who still wants to focus on God and to communicate with Him regularly.
This is not the first of the author's books of this type and I certainly hope it's not her last. The subject of the book was extremely relevant to any believer or unbeliever in God. I did appreciate her use of personal stories and how she tied them into her topics. However, the stories may be the only area that I wasn't quite as gripped as the rest of the book. But, Mrs. Spangler still used them to tie into her main ideas very well.
I received this book for free as part of the book review program from the Tyndale House publishers blog network. It is a good book, with an important subject., I hope that you read it and find that it helped you to know God more and become more like him.