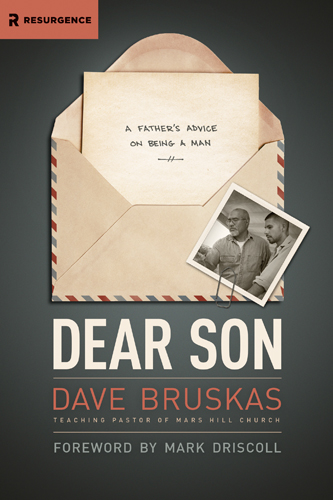 Fatherless sons are an at an epidemic high in both the United States and around the world. But, one topic that is not mentioned as frequently is that of sonless fathers. When you combine these two fields of study and address some of the important issues which a father should discuss with his sons, you have the material found in the book 'Dear Son', the first book written by Pastor Dave Bruskas.
Dave Bruskas is an executive elder at Mars Hill Church in Seattle, Washington. He has decades of Pastoral experience and is married with four daughters. Dave also had a son who died in infancy. One of the unique features of 'Dear Son' is found at the beginning of each chapter. It is in that spot where the author inserts a letter of only a few pages that he writes to his son David, the child who died. These letters address the topic in the chapter by relating personal stories about their family. They serve as a brief introduction for each subject.
Some of the subjects covered in this book include Biblical advice on how to be a son, Christian, father, citizen, husband and others. Spread throughout the pages are scriptural gleanings from the New Testament letters of 1 and 2 Timothy, with other passages as well. I liked this book and feel it is very needed as a compass for young men seeking to navigate life. However, Mars Hill Church has a consistent reputation for emphasizing scripture as primary in living, and I did not find that scripture was emphasized enough in relation to each subject. It seemed like it was added to the subjects, rather than being the focus of them.
Again, I did like the book. And I do recommend it, but there is something you'll need to be aware of regarding the intended audience. It is written primarily to young men, in the age bracket of their teems to twenties. While the principles in the pages are true and applicable for any age group, it is the intended age bracket that will obviously benefit the most from it,. I received this book for free from the book review program for bloggers, available at
www.tyndaleblognetwork.com
. All young men need help in their journey through life. I hope that this book will fall into the hands of many of them, and that they will apply the Biblical principles in it's pages to be more like Jesus on their journey.