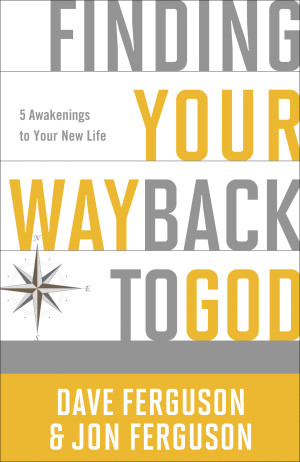 Dave Ferguson and his brother Jon are the founders and Pastors at Community Christian Church near Chicago. They have many years of ministry experience and have written a new book called "Finding Your Way back to God", which I received for free through the book review program for bloggers that is available at
www.bloggingforbooks.com
. The views expressed are my own.
The book uses the story of the Prodigal Son in Luke 15 to elaborate the various points it proclaims in it's pages. It is divided into five sections, each with the subject of 'awakening' at the forefront, including awakening to longing, regret, help, love and life. Through some of the scriptures found in the story of the Prodigal Son, and many tales of lives who were altered by the principles discussed in each chapter, the authors weave a tale of self discovery, ending with a life that most people desire, but don't often see. They also include a study guide at the end, with questions for discussion about the topics that are addressed.
Finding Your Way Back to God is probably very good for a non-believer or Christian who feels they have stumbled beyond restoration. And many of the stories in it's pages tell of these type of experiences. For that reason it will be a benefit to many people. I, for one, however, am becoming more and more disturbed by the trend in Christian literature that has become more stories and less scripture. While the authors do use the Prodigal Son as the backdrop of their book, it is not a book based on the Bible. It is a book that contains scriptures to support it's points, similar to the way we might use famous quotes which illustrate what we're trying to say.
I do not desire to criticize anyone, for I think the writing style is very good and they build their points from chapter to chapter well. But, if you're like me and are desiring more Biblical literature, this won't be for you. If you do, however, need to find your way back to God, I hope that you do read this book, that it's simple enough to help you and that you grow in the wisdom and knowledge of God, and in relationship with Jesus Christ, His Son, the Savior of the world who died for your sins and rose again.